"Welcome to The Know, a Rooster Teeth channel! The Know brings you all the details on what's happening in the worlds of gaming, entertainment, technology, and science. Want to know what's happening? Want to know why it matters? We've got everything you need to stay in the know."
Subscribe for daily news updates and discussion plus weekly podcasts and more!
- Official YouTube channel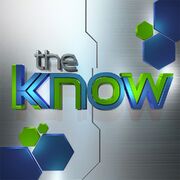 The Know
The Know logo used on their videos/website in 2016.

Type

Division
Industry
Entertainment, News
Genre
News
Founded
June 1, 2014; 3 years ago
Founders
Ashley Jenkins

Meg Turney

Headquarters
Austin, Texas, U.S.A.

Key people

Ashley Jenkins


Mica Burton
Jon Risinger
Ryan Haywood
Gus Sorola
Adam Ellis

Adam Kovic

Bruce Greene

Lawrence Sonntag

Kdin Jenzen

Brian Gaar

Services
Online video


Community website

Number of employees

9
Parent
Rooster Teeth
Website
Official Website
The Know is Rooster Teeth's official multimedia entertainment news channel division on YouTube. The Know was created to provide subscribers with up-to-date information regarding the entertainment and technology industries. Founded and created by Ashley Jenkins and Meg Turney on June 1, 2014, it is the news division of Rooster Teeth that discusses current events in movies, TV shows, gaming, and media. It is hosted by Ashley Jenkins, formerly co-hosted by Meg Turney and a large selection of other Rooster Teeth staff from each division within the company, with regular appearances from co-anchors Mica Burton, Jon Risinger, Ryan Haywood, Gus Sorola and the Funhaus Team (primarily Adam Kovic and Bruce Greene).
It was initially a single news show hosted on Rooster Teeth's main YouTube channel before moving over to it's own channel, where it's since expanded into several different categories of entertainment and tech news as well as several different shows[1], with the latest being Glitch Please, a successor to their earlier podcast The Patch, that was greenlit for a full series after six pilot episodes[2][3]. Previously The Know had hosted Leaderboard, where Meg Turney had discussed esports news, The Patch Game Club, where the hosts of The Patch would discuss a new video game they've played each week, and Screen Play, a film and TV podcast.
The Know originated from Rooster Teeth's RT News show on their main channel before switching to its current channel. It joined YouTube on March 5, 2014, debuted on June 1, 2014. Joey Aranda left Rooster Teeth on September 22, 2014 but The Know still continues without him. Funhaus joined The Know on February 10, 2015. Kdin Jenzen joined The Know on Marc h 21, 2016. On June 27, 2016, Meg departed from Rooster teeth, but The Patch and The Know still continues without her.
The Know is currently home to multiple news and podcast shows including:
The Patch: Rooster Teeth's gaming podcast

Game Club: a podcast on the discussion of a different game each week

(formerly) Screen Play: their film and TV podcast
(formerly) Coming Soon: a monthly series on the upcoming games for the month
(formerly) Leaderboard: the latest news in Esports
(formerly) The Know It All: a weekly recap, posted on to the main Rooster Teeth channel, on all the posted events on The Know channel.
Current anchors
Edit
Former anchors
Edit
Joey Aranda (formerly, left Rooster Teeth and The Know as of September 22, 2014)
Meg Turney (formerly, left Rooster Teeth and The Know as of June 27, 2016)
External Links
Edit
Cite error: <ref> tags exist, but no <references/> tag was found
Ad blocker interference detected!
Wikia is a free-to-use site that makes money from advertising. We have a modified experience for viewers using ad blockers

Wikia is not accessible if you've made further modifications. Remove the custom ad blocker rule(s) and the page will load as expected.