"A raw, unfiltered look at sports from some of the most outspoken talent at Rooster Teeth. Former ESPN radio personality Tyler Coe is joined by Joel Heyman, Jack Pattillo, Geoff Ramsey and others. This is a weekly half hour of real talk from guys who love sports and video games the way you do. No team, coach, athlete, or mascot is off limits. Each episode of Sportsball is available Wednesday afternoon"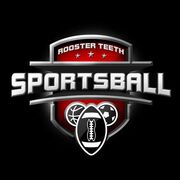 Sportsball was a sports-centric podcast, produced by Rooster Teeth Productions, hosted by Tyler Coe, a former ESPN radio personality,[1] with regular appearances from Joel Heyman and Jack Pattillo, and some special guests.[1] Each episode was broadcast live to FIRST Members on Tuesdays at 5pm CT, edited and uploaded to the Rooster Teeth website on Wednesdays for FIRST Member, and made public Thursday.
Criticism centered around the fact that they talked primarily about football and not enough about other sports. Instead of an season 1 finale and getting renewed for a second season, Tyler Coe has confirmed that the show is officially over and cancelled. Following the finale sportsball 26/ series finale, Sportsball has since been cancelled and discontinued.[2][3][4][5][6]. The show was essentially cancelled due to weak viewership as well as the fact that the football season had ended as well as no longer having interest talking about football and sports, Coe later published a journal entry stating that the show would be "temporarily revived. In other words, while the series is a dead and cancelled show, it was reenacted live at RTX 2016. During the Sportsball Panel at RTX 2016, Tyler Coe stated that "It wasn't a whole show and [it] wasn't quite ready yet".
But in lieu of Sportsball not being an active show and it being retired and cancelled, Tyler will be now part of an audio-only podcast called "The Coe Show". In other words, while Sportsball is retired, cancelled and most likely gone for good and may never come back (or at least not anytime soon as it is highly unlikely to return, as confirmed by Tyler's reddit AMA and RT profile questions) it has now reincarnated in audio form as The Coe Show.
The Coe Show is going replace Sportsball and is going to be an audio only podcast and part of a podcast network, as said from the Sportsball panel and it is also going to be affiliated with RT and have the same RT personalities from Sportsball. 
In July 2018, Rooster Teeth announced the revival of Sportsball, with Coe now joined by Mia Khalifa.[7]
Episode
Featuring
Special Guest(s)
Date
Link
1 - The Worst Sports Fans
Tyler Coe, Jack Pattillo, Joel Heyman
None
August 25, 2015
1
2 - Dangerous Segways
Tyler Coe, Jack Pattillo, Joel Heyman
None
1 September 2015
2
3 - Giant Birds from Outer Space?
Tyler Coe, Jack Pattillo, Joel Heyman
None
8 September 2015
3
4 - Ireland. NFL. Rugby. Funhaus. Drunk.
Tyler Coe, Brandon Farmahini, Joel Heyman

(Studio Audience) Barbara Dunkelman, Cole Gallian, Joshua Ornelas, Joel Rubin, James Willems, Adam Kovic, Mariel Salcedo, Michael Jones

15 September 2015
4
5 - Sad Bama Fans & Missed Kicks
Tyler Coe, Jack Pattillo, Joel Heyman, Cole Gallian
Brandon Farmahini
22 September 2015
5
6 - The Most Outrageous Sports Fan?
Tyler Coe, Jack Pattillo, Joel Heyman, Cole Gallian
None
29 September 2015
6
7 - Hibbert, Are You Listening?
Tyler Coe, Jack Pattillo, Joel Heyman, 

Cole Gallian

Brandon Farmahini
6 October 2015
7
8 - The Craziest Sports Day Ever?.of All Time

Tyler Coe, Jack Pattillo, Joel Heyman, Cole Gallian

None
13 October 2015
8
9 - Big Mistake in the Big House

Tyler Coe, Cole Gallian, Joel Heyman

None
20 October 2015
9
10 - Kickin' is Easy

Tyler Coe, Jack Pattillo, Brandon Farmahini

Joel Heyman
27 October 2015
10
11 - Who Farted On Bob Costas' Pillow
Tyler Coe, Jack Pattillo, Shannon McCormick, Cole Gallian
None
3 November 2015
11
12 - Missouri Campus Protest
Tyler Coe, Jack Pattillo, Geoff Ramsey, Cole Gallian
Joel Heyman
10 November 2015
12
13 - Who Deserves The Madden Curse?

Tyler Coe, Jack Pattillo, Brandon Farmahini, Cole Gallian

Shannon McCormick, Adam Ellis, Miles Luna
17 November 2015
13
14 - Return of the Joel

Tyler Coe, Jack Pattillo, Joel Heyman, Cole Gallian

Adam Baird, Barbara Dunkelman
24 November 2015
14
15 - Goodbye Kobe

Tyler Coe, Brandon Farmahini, Joel Heyman, Cole Gallian

None
1 December 2015
15
16 - Hump Day in Buffalo
Tyler Coe, Jack Pattillo, Joel Heyman, Cole Gallian, Nick Schwartz
None
8 December 2015
16
17 - Is a Horse a Person
Tyler Coe, Jack Pattillo, Ray Narvaez Jr., Cole Gallian
Jordan Cwierz, Joshua Ornelas, Kyle Taylor, Miles Luna
15 December 2015
17
18 - Soccer Imports and Odell Beckham Jr Not So Special
Tyler Coe, Jack Pattillo, Jon Risinger, 

Cole Gallian, Nick Schwartz

None
22 December 2015
18
19 - 2015 Sportsball Awards

Tyler Coe, Jack Pattillo, Shannon McCormick, 

Cole Gallian

None
29 December 2015
19
20 - Coe Eats Crow

Tyler Coe, Jack Pattillo, Shannon McCormick, 

Cole Gallian, Nick Schwartz

Bruce Greene

(In background) Elyse Willems, Matt Peake, Joel Rubin, Lawrence Sonntag, James Willems

5 January 2016
20
21 - Did Steelers Get Lucky?

Tyler Coe, Jack Pattillo, Joel Heyman, 

Cole Gallian, Nick Schwartz

Ray Narvaez Jr.
12 January 2016
21
22 - Barbara's Crappy Predictions

Tyler Coe, Jack Pattillo, Jordan Cwierz, 

Cole Gallian, Nick Schwartz

Barbara the Chicken, Brandon Farmahini
19 January 2016
22
23 - NFL Playoffs: A Toy Story
Tyler Coe, Jack Pattillo, 

Jordan Cwierz

, 

Cole Gallian, Nick Schwartz

Miles Luna, Jon Risinger, Caleb Denecour, Stan Lewis
26 January 2016
23
24 - Nommy Graminated Party

Tyler Coe, Jack Pattillo, Joel Heyman, 

Cole Gallian, Jon Risinger, Adam Baird

Jordan Cwierz, Nick Schwartz, Barbara Dunkelman, Caleb Denecour, Stan Lewis, Kyle Taylor, Joshua Ornelas, Brandon Farmahini, Chris Demarais
2 February 2016
24
25 - Sportsball Discusses the Baylor Scandal

Tyler Coe, Jack Pattillo, Joel Heyman, 

Cole Gallian, Nick Schwartz

None
9 February 2016
25
26 - Sportsball Finale

Tyler Coe, Jack Pattillo, Joel Heyman, 

Cole Gallian, Nick Schwartz

None
16 February  2016
26
References
Edit
↑ 1.0 1.1 Sportsball Homepage http://roosterteeth.com/show/sportsball
↑ ".@BigDavo75 alas, #sportsball is dead." –Shannon McCormick (@sadogre) Twitter. Retrieved 3 May 2016.
↑ https://www.reddit.com/r/roosterteeth/comments/46fiie/is_sportsball_over_or_just_the_end_of_a_season/
↑ https://www.reddit.com/r/roosterteeth/comments/5244jd/is_there_any_chance_that_sportsball_is_coming_back/
External links
Edit