"Sex Swing is the story of four bandmates, battling against all odds to make their way in the world of music and beyond with little to no regard for what's come before or what will come after."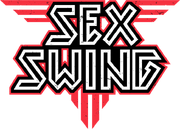 Sex Swing: The Animated Adventures (TV Series) or simply known as just Sex Swing was Funhaus and Rooster Teeth's newest 2D animated TV Web series and the official non-official rock band of Funhaus: Sex Swing. It was a a series following the exploits of the titular rock n' roll group Sex Swing, released on February 18, 2017 starring Adam Kovic, Bruce Greene, James Willems, Lawrence Sonntag and former employee Joel Rubin.
On July 1, 2016 at RTX 2016, it was announced that Sex Swing The Animated Series was in production. The show premiered on Rooster Teeth's website on February 18, 2017 and aired 6 episodes before the show was cancelled on May 5, 2017.[1][2][3]
In Open Haus #9, Funhaus was asked to think of names for a 80s rock band and its members. Thus, 'Sex Swing' was born. Later two Funhaus Shorts were made about Sex Swing, sponsored by the video game Rock Band 4. Sex Swing has got its own merchandise on the Rooster Teeth store.
☀n February 13, 2017, Rooster Teeth premiered the teaser trailer for their upcoming animated series titled Sex Swing featuring members of their Funhaus division based on a recurring joke in their videos where they portray a fictional band of the same name.[4]
Cast and Characters
Edit
The Band Members[5]Edit
Other Characters
Edit
| Episode | Description | Link |
| --- | --- | --- |
| 1 - Can You Dig It | Sex Swing are in need of a gig, so Max books them a show at a bar/bowling alley/gold mine. However, things go south when the venue gets ambushed by bandits. | 1 |
| 2 - Robot Rock | Max tries to revamp the Sex Swing boys as a robot band, but Tommy has some problems with their rock n' roll credentials. You know, mostly because they are robots and have none. | 2 |
| 3 - Make Them Wet | Sex Swing are put in charge of a terrible water park for a day. Can they turn around this failing business, or will they leave the park in ruins? I bet you know. | 3 |
| 4 - Save The Princess | Tha Schling's world is turned upside down when he discovers that Princess Diana died twenty years ago. To help him get back to normal, the rest of the band have to send him back in time to stop the horrible tragedy from ever happening. Sort of. | 4 |
| 5 - Welcome to the Clam Jam | In order to branch out to a new demographic, Max forces Sex Swing into performing at a lady's only music festival—the aptly named "Coochella." Can the boys get through the show without blowing their cover? | 5 |
| 6 - Billy Zane's Phantom Pain | In the season one finale, Sex Swing find themselves stranded in the desert with no ride home. Things take a turn when they come across an abandoned car dealership and have to help Billy Zane, star of Titantic and The Phantom, save it. | 6 |
References
Edit