This article is a stub.
You may help out the wiki by contributing to this page!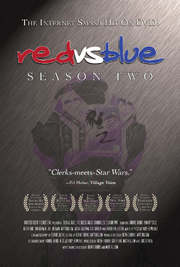 Season 2 of the machinima web series Red vs. Blue: The Blood Gulch Chronicles began airing on January 3, 2004. The season is set 3 months after the first season, and continues the story of the soldiers in Blood Gulch. The season introduces a new character, Doc, and a new villain, O'Malley. This is the second full season of Red vs. Blue.
Characters
Edit
| # | Title | Description | Running Time | Air Date | Link |
| --- | --- | --- | --- | --- | --- |
| 20 | Everything Old is New Again | Episode 20 introduces the character Doc to the Blood Gulch, and to the Blues. | 7:10 | Summer 2004 | 1 |
| 21 | Motion to Adjourn | The Blues fend off an attack from the Reds, the Reds fend off themselves. | 3:56 | Summer 2004 | 2 |
| 22 | Red vs Bleu | The Blues surrender and sacrifice Doc, the Reds sacrifice Grifs self-esteem. | 4:23 | Summer 2004 | 3 |
| 23 | The Joy of Toggling | Doc distances himself from Grif, the Blues make a discovery. | 4:28 | Summer 2004 | 4 |
| 24 | Sweet Ride | The Blues almost accidentally toggle Sarge to death. | 3:55 | Summer 2004 | 5 |
| 25 | Last Words | Doc makes an impression on Sarge while the Blues try to fix Church's switch. | 4:48 | Summer 2004 | 6 |
| 26 | Nobody Likes You | When the Reds try to make a deal with the Blues, one solider gets stuck in the middle. | 4:36 | Summer 2004 | 7 |
| 27 | Nine Tenths of the Law | Donut gets to know the other members of Red Team better, while Church makes a strategic error - listening to Caboose. | 5:23 | Summer 2004 | 8 |
| 28 | In Stereo When Available | The Blues try to control Lopez, while the Reds set out looking for a little payback. | 4:01 | Summer 2004 | 9 |
| 29 | Radar Love | Sparks fly when Lopez and Sheila meet, but the unexpected return of a former ally changes everything. | 4:02 | Summer 2004 | 10 |
| 30 | I Dream of Meanie | Tex tries to explain her mysterious return, while Sarge looks for a volunteer for a special project. | 4:31 | Summer 2004 | 11 |
| 31 | Room for Rent | Church and Tex venture into Caboose's mind to search for O'Malley. | 3:54 | Summer 2004 | 12 |
| 32 | Me, Myself and You | Church and Tex continue their search while Tucker, Sheila and Lopez approach Red Base. | 3:14 | Summer 2004 | 13 |
| 33 | An Audience of Dumb | Lopez serenades the Red Team to get them to shut off their radios and O'Malley infects Doc. | 7:45 | Summer 2004 | 14 |
| 34 | Aftermath, Before Biology | Doc discovers a strange vehicle and Grif has an operation. | 4:27 | Summer 2004 | 15 |
| 35 | What's Mine is Yours | Simmons and Grif bicker over surgery while Sarge discloses that Lopez is hiding secret plans. | 4:48 | Summer 2004 | 16 |
| 36 | Blunderball | Grif and Donut undertake a secret spy mission and Donut overhears Doc/O'Malley making plans. | 5:55 | Summer 2004 | 17 |
| 37 | Dealer Incentive | Blue Team interrogates Donut then Church possesses him in an attempt to trick Sarge. | 6:27 | Summer 2004 | 18 |
| 38 | K.I.T. B.F.F. | In the final episode of season two, the battle for Blood Gulch moves beyond just Red versus Blue. | 13:25 | Summer 2004 | 19 |