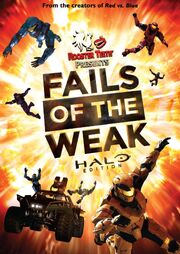 Game Fails is a YouTube channel owned by Rooster Teeth, and managed by Ryan Haywood. The channel was started when the amount of fails sent in for Fails of the Weak exceeded a manageable amount. The channel was meant to display fails that did not make the cut. Since then, the channel had began to feature fails from all sorts of games. Occasionally Geoff Ramsey and Jack Pattillo will do commentary on one of them. On September 10, 2013, Rooster Teeth released Fails of the Weak - Halo Edition on their store as a DVD and digital download.
Ad blocker interference detected!
Wikia is a free-to-use site that makes money from advertising. We have a modified experience for viewers using ad blockers

Wikia is not accessible if you've made further modifications. Remove the custom ad blocker rule(s) and the page will load as expected.