"Meg Turney and Ryan Haywood bring you a fun dose of outrageous Internet videos, gaming news, and zany challenges. Plus, interviews and exclusive clips from Rooster Teeth's latest projects."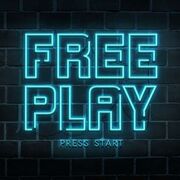 Free Play was a series starring Ryan Haywood and Meg Turney, covering gaming news and some behind the scenes clips from Rooster Teeths' latest projects, while competing each week to best one another in a host of different challenges.
On certain weeks, Meg and Ryan will also challenge Mariel Salcedo and Tyler Coe.
The shows followed a rather irregular schedule, with some weeks having 2 or 3 episodes.
The was essentially fantastic variety show hosted by Meg Turney and Ryan Haywood. The show started its first season as an RT site exclusive and wasn't published on YouTube until its second season. The show's main cast were Ryan & Meg with Tyler & Mariel being their secondaries plus anyone else they had as special guests doing skits, challenges, and activities that were always fun to watch. The show was lit up by Meg's upbeat personality and really showed us Ryan's "silly dad" side. Free Play had guests such as Alan Ritchson and Johnny Mundo from Lucha Underground who each performed various challenged and taught Ryan and Tyler how to wrestle. The show was always fun and everyone on it seemed to enjoy the whole production.
On June 27, 2016, after two full years of employment and with the beginning of RTX 2016 only 4 days away, Meg Turney, the main co-host officially announced her departure from Rooster Teeth in this video, due to her own career pursuits making it impossible for her to remain a full-time employee under company policy, although her departure was on friendly terms. As a result, Free Play was formally ended, with the final episode #65 released on July 8, 2016.
Episode
Competitors
Challenge
Winner(s)
Special Guest(s)
Date
Link
0 - New Site Special
N/A
N/A
N/A
Adam Baird
0
1 - RTX Special
Meg vs Ryan
Bingo Scavenger Hunt
Ryan
Ashley Jenkins
August 12, 2015
1
2 - Pajama Races & Bobbing For Cereal
Meg and Ryan vs Gray and Lindsay
Find the letters XRAY or &VAV in the bowl of cereal.
Gray and Lindsay
Gray Haddock, Lindsay Jones
2
3 - Four Little Roosters
Meg and Blaine vs Ryan and Josh
Navigate the laser maze, complete the challenge with the lowest time.
Ryan and Josh
Blaine Gibson, Josh Flanagan
  
3
4 - Turney Takes a Tumble

Ryan vs Meg Cole







Tyler vs Joel

Score 3 points in child's Basketball while wearing sumo suits.

Guess the obscure sporting terms.

Ryan







Tyler

Tyler Coe, Joel Heyman

August 20, 2015
4
5 - Blaine Get Weird
Meg vs Ryan
Catch "Million dollar bills" in a punch bowl.
Ryan
Blaine Gibson
August 26, 2015
5
6 - Gross Beer Pong
6
7 - Meg and Ryan Go On a Hot Date
7
8 - RvB Relay
8
9 - Social Disorder Plays Twisted Twister
9
10 - Ryan and Meg Smash a Pinata
10
11 - Things Get Hairy with Funhaus
11
12 - Pokemon Challenge
12
13 - Stick It Where The Sun Don't Risinger
13
14 - Gotta Get Down On Pie-Day
14
15 - Mac and Cheese Mayhem
15
16 - Pumpkin Puzzle Race
16
17 - Iron Cosplay
17
18 - A Real Shocker
18
19 - Pumpkin Spice Nightmare
19
20 - Mariel Takes the Gallon Challenge
20
21 - Miracle Berry Taste Test
21
22 - Balloon Lunacy
22
23 - Smashing Pumpkins
23
24 - Halloween Spook-tacular
24
25 - William Tellin' It
25
26 - Safe for Work Russian Roulette
26
27 - Pokemon Snap
27
28 - The King's New Shoes
28
29 - Quest to the Renaissance Fair
29
30 - The Newlywed Game
30
31 - 50 Charades of Grey
31
32 - Thanksgiving Special
32
33 - Shot Roulette
33
34 - Dead Pets and Wet Heads
34
35 - Pie To The Face-Off
35
36 - Don't Wake Daddy
36
37 - Fan Art...Wednesday?
37
38 - Season Finale Special
38
Episode
Competitors
Challenge
Winner(s)
Special Guest(s)
Date
Link
39 - Season 2 Premiere
Ryan vs Meg

Various challenges in Australia

Lawn Bowls, "Native" Tourist Challenge and Sand Sculptures

Meg
Chris Demarais
February 3, 2016
39
40 - Koala Craziness
Ryan and Meg vs Tyler and Mariel
Meg and Mariel throw Koala Cookies (while blindfolded) to Ryan and Tyler, who have to catch as many as possible in 3 minutes
Meg and Ryan
None
February 5, 2016
40
41 - RTX Hide-n-Seek!
Ryan vs Meg
Find the Tiger somewhere among the RTX Australia booths
Meg
None
February 10, 2016
41
42 - RWBY Extravaganza
Team Ass Play (Meg, Ryan, Mariel & Tyler) vs Team RWBY (Miles, Kerry, Gray and Lindsay)

A sort of visual "Chinese Whispers"

One Person from each team is given an "item prompt", they then have to draw that item and show it to the person in front of them, the second passes to the third, and the third passes it to the front, who has to write what they see.

Team RWBY
Miles Luna, Kerry Shawcross, Gray Haddock, Lindsay Jones
February 12, 2016
42
43 - Ryan and Meg Run the Big 5
N/A
No Challenge
N/A
None
February 17, 2016
43
44 - Zombie Hunt
Meg & Ryan (Co-op)
Navigate the "House of Torment" with a supply of 300 bullets

House 1 - Would be dead

House 2 - Passed

None
20 February 2016
44
45 - Food Bingo!
Free For All (Tyler, Mariel, Ryan, Meg)
Food Bingo - Getting a Bingo is a loss, the losers have to drink a blend of the items that got them a Bingo.
Ryan, Meg
Jon Risinger
24 February 2016
46 - Ryan Gets Erotic

Meg & Ryan vs Tyler & Mariel

Meg and Mariel have to dress up Ryan and Tyler for a Red Carpet, they will be judged by Jon and Barbara on their "Fashion, Walk and Fuckability"

25 - 25.75

Ryan and Meg

Jon Risinger, Barbara Dunkelman

26 February 2016
47 - Lucha Libre with Johnny Mundo
La Flama Blanca (Ryan) vs Paloma Rojo (Tyler)
Lucha style wrestling match/lesson
La Flama Blanca (Ryan)
Johnny Mundo
March 2, 2016
47
48 - Fan-Fic Friday
Ryan vs Tyler vs Mariel vs Meg (In that order)
Each person will be given a prompt and a line from a fanfic about them, they will then read that line to the other 3, if any one of them laughs before the line has been read, they get sprayed or covered in "something useable in the bedroom", if multiple people laugh, the first person to laugh gets the punishment of Lube, Chocolate sauce, Silly String, Whipped cream or strawberry jelly.

(Laughs)

Ryan - 0

Tyler - 2

Mariel - 2

Meg - 5

Ryan

None
March 4, 2016
48
49 - Mystery Oreo Challenge with Greg Miller
Meg vs Ryan
Greg Miller (with his extensive Oreo knowledge) tests Meg and Ryan on their Oreo knowledge, they both try 5 different Oreo flavours while blindfolded - going on smell and taste alone, they must guess the flavour.

4 - 1

Meg

Greg Miller
March 9, 2016
49
50 - Screwed by Screwball Scramble
Free For All (Meg, Ryan, Tyler, Mariel)
Play Screwball Scramble, try to complete the course without failing, if the ball falls, the person who failed has to take a shot of Hot Sauce. If anyone completes the course, they are exempt from taking any more shots, but they can pass it on to any of the others. Ryan starts with a 1 shot hanicap for being 30 minutes late to the shoot.

Meg - 3

Mariel - 4

Ryan - 4

Tyler - 9

Meg

None
March 11, 2016
50
51 - Pi Day with the cast of Crunch Time

Elimination VS

(Ryan, Tyler, Meg, Mariel and Nick)

Jon draws two names out of a bowl - those two people will then face off solving simple algebraic equations - whoever gets an answer wrong gets a pie in the face and is eliminated

Ryan

Kirk Johnson, Avery Monsen, Nick Rutherford, Jessy Hodges, Jon Risinger, Patrick Salazar
March 16, 2016
51
52 - Ball Is Life

Team Free Slay (Meg and Ryan) vs Team Ball Stars (Tyler and Mariel)

In this March Madness themed episode, the Free Players play HORSE with a twist, instead of playing to HORSE, the game is played to ASSPLAY, each team will have one person demonstrate a basketball shot, which the other three must then replicate, if everyone succeeds, the shot is passed and there is no penalty, but if any one person misses a shot, they get a letter toward ASSPLAY and have to chug a glass of sweet tea.

Later the rules were changed to Sudden Death - if the opposing team to the ones who set the shot succeed in performing the shot, the team that demonstrated it get a letter and a glass of sweet tea.

Team Free Slay
None
March 18, 2016
52
53 - VR Scream Fest
N/A
No Challenge
N/A
None
March 23, 2016
53
54 - Confetti Egg

Free-For-All

(Meg, Ryan, Mariel, Tyler)

"Operation Confetti Egg" - Meg, Ryan, Mariel and Tyler take turns playing Operation, as with normal rules, complete the game without touching the sides, however, they only have 5 seconds to extract the item from the body, if at any moment the sides are touched or the item is not removed within the 5 seconds, the person who did so must draw a number out of a bowl - they must then crack the corresponding egg on their head, some of the eggs are raw, some are hard-boiled, and some are filled with confetti.

Meg - 3

Ryan - 4

Mariel - 2

Tyler - 6




Mariel - 2 Eggs, 0 Raw, 1 HB, 2 Confetti

None
March 25, 2016
54
55 - The Free Play 500

Team Name (1st Racer & 2nd Racer)

Team Screw Attack (Craig Skistimas & Sam Mitchell)

Team Kinda Funny (Greg Miller & Andy Cortez)

Team Gluten Free Slay (Meg & Jon)

Team Ass Play (Mariel & Tyler)

Team Achievement Hunter (Geoff & Lindsay)

Team Blaine and Chris

Screw Attack's "Don't Drink and Drive" gets real this week, like the original, the racers must finish an entire beer before the race is completed, but they cannot be moving while drinking, if any racer is caught drinking and driving "Police Officer Dunkelman" will send them back to the start of the lap. Teams are scored on where they finish in the race - which determines the starting order for the next race. The team with the highest number of points at the end of the race wins.

Team Screw Attack - 22

Team Gluten Free Slay - 20

Team Ass Play - 28

Team Blaine and Chris - 20

Team Kinda Funny - 14

Team Achievement Hunter - 22

Craig Skistimas, Sam Mitchell, Greg Miller, , Andy Cortez, Jon Risinger, Lindsay Jones, Geoff Ramsey, Blaine Gibson, Chris Demarais, Barbara Dunkelman
April 16, 2016
55
56 - Meg and Ryan REALLY Run the big 5...With Zombies
56
57 - Butts and Boats
57
58 - RWBY Chibi Bake-Off
58
59 - Grimm Eclipse Shootout
59
60 - Real Man's Jingle Jam
60
61 - Iron Cosplay: X-Men Edition
61
62 - Piñata Payback
62
63 - Face S'more Showdown
63
64 - FrE3 Play!
64
65 - Goodbye Free Play!
65