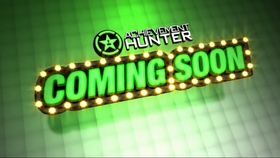 Coming Soon
was a monthly
Achievement Hunter
series, which showed off new upcoming video games and the dates they would be released, with a little hint for what's in store for gamers. New episodes came out at the first of each month to release new video titles and were posted on
The Know
.
Coming Soon was hosted by Achievement Hunter member Kdin Jenzen.
The show was confirmed to be cancelled by Kdin on July 11, 2015 due to the amount of work it took to make and not having enough time to do along with other Achievement Hunter projects.
Ad blocker interference detected!
Wikia is a free-to-use site that makes money from advertising. We have a modified experience for viewers using ad blockers

Wikia is not accessible if you've made further modifications. Remove the custom ad blocker rule(s) and the page will load as expected.